When I first started out in advertising, a wise man shared with me a piece of age-old wisdom: you're not in business to sell ads, you're in business to build brands.
That rings especially true for Instagram.
"Imagine if every time you opened up the Yellow Pages, all of the ad copy was about how great each brand was," says social media expert Kim Garst. "You'd be so overwhelmed with information that you probably wouldn't make any decisions.
However, if you see an ad for a brand that you're familiar with and it's relevant to what you're looking for, then you're more likely to take action."
Instagram is an excellent platform for marketing products. It is simple to use, and it can be used to offer solutions and raise brand awareness at the same time.
You need to tell a story, market your product as part of that story, and then post it on Instagram.
If you want to promote your product on Instagram, you need some creativity, the right tools, and the right people behind your back who help you build that story into a great success.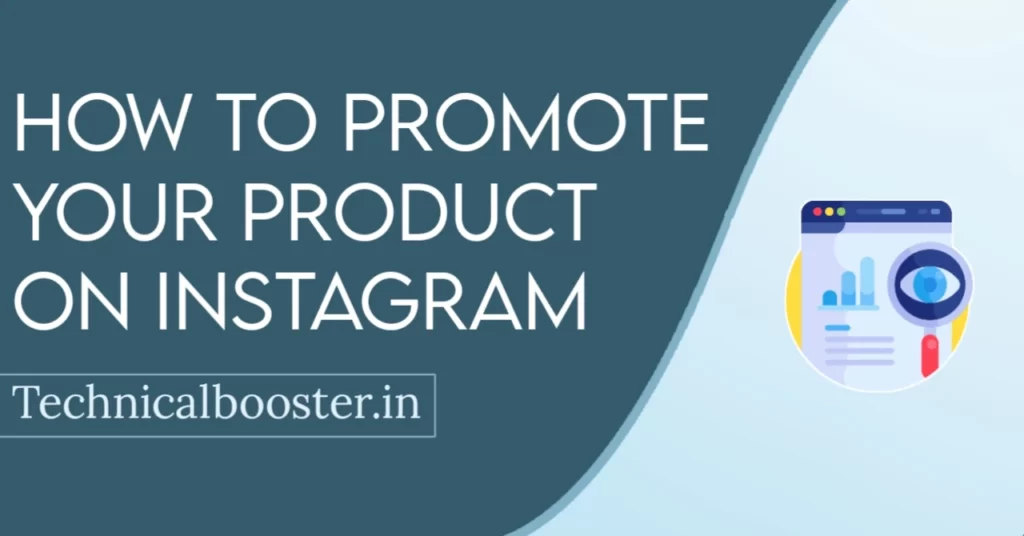 1) Include Audience:
Many tools can help you to find the right audience for your product on Instagram. You can use hashtags, location information, or even profiles of brands related to yours.
Along with this, you also need to think of a good storytelling strategy that can keep your audience engaged throughout.
You also need to know what your audience is watching on Instagram. If you can find that out, then it will become simple for you to design the perfect strategy with the right influencers and at the right time.
You need to search your targeted interests inside Instagram's explore section.
2) Work With Popular Instagrammers:
Many popular Instagrammers earn big money by promoting brands and products. It would be best if you worked with popular Instagrammers and who can help you promote your product.
You need to find out which accounts they follow and can help market your product for you.
3) Spotlight New Products
You need to promote your products very intelligently for you to succeed. You can use Instagram's different features like video, image, and text to showcase to people the new product that you are offering through the bot or a microsite on your company's website. Once people see it on Instagram, they will want to know more about
When you post a picture of your new product, people will generally like and comment on it.
That is how you can promote your product and grab some attention for it at the same time.
You can also use Instagram as a platform to highlight your new products and services.
In this case, you need to find the right influencers for promoting your product. Then you need to work with them and share your product's story in such a way that can attract more users.
It is possible to keep the buzz going for new products through influencers who have large followings on Instagram with Instagram. You need to find out which influencer has a target market that matches your brand's customer base.
4) Build A Story About Your Brand:
Creating a story around your brand and telling it on Instagram is amazing to get followers' attention. In this strategy, you need to find a connection between your product and the story that you are telling on Instagram.
Once people see your brand's story, they will have a better understanding of what it is all about. You can also use this strategy to market your special offers or new products and services on Instagram.
5) Engage With Competitors' Followers.
One of the best ways to pick up new customers on Instagram is by engaging with your competitors' followers.
If you are seen interacting with them, it will let people know that you are interested in helping them, which might make them want to explore further what your brand has to offer.
6) Highlight Social Proof:
Social proof is a marketing strategy that people use to gain customers' trust. This works well on Instagram because it creates the perfect environment for influencers to reach out and show their followers how your product can help them solve their problems.
You can also use social proof to establish yourself as an authority in the business and gain followers' trust and attention at the same time. Doing this will improve your chances of making sales later on, especially if you provide helpful content and tips for people who read your posts.
One way of using social proof is by asking for customer testimonials and publishing them on your website. This will show potential customers that they can trust you, making them want to buy from your brand. You can also ask influencers to publish the testimonial on their blogs or websites, as this will help you successfully promote yourself and generate sales.
Conclusion :
These are the most important things that you need to know about Instagram marketing. Once you get familiar with them, it is also easy for you to share your product's story on Instagram through a video or a picture.
You need to know how to do it in a way that will not offend anyone and create a sense of interest in them about your brand.
If you follow these tips to make your Instagram marketing campaign even more effective, then you can be sure that it is worth exploring for your business in the future.
Hope you liked this article today, if you liked this content, then do not forget to share it.